Today, as many cannabis strains are bred to contain high level of THC, similarly many strains are bred to contain high level of CBD. Typically CBD are consumed in the form of a tincture, edible or gummy and perhaps you would consider consuming it in the form of CBD flower too.
High CBD strains have been developed to contain significant levels of CBD without overwhelming, mind-altering levels of THC. While high CBD strains can be made into familiar CBD products like tinctures, some people prefer these strains in their natural flower form.
1. Charlotte's Web
Charlotte's Web contains a CBD content of 17%, with minute traces of THC. It was developed by the Stanley Brothers in Colorado in the early 2000s. Charlotte's Web was originally dubbed the "Hippie's Disappointment" because it didn't contain enough THC to produce the high marijuana is famous for. Charlotte's Web offers a woody, earthy aroma and notably sweet flavor.
2. Cannatonic
With CBD content as high as 17% and THC content below 6%, it is said to be uplifting yet relaxing. A cross between MK Ultra and G13 Haze, Cannatonic is the most famous high CBD strain after Cannatonic. Termed as "CBD Queen," Cannatonic was first introduced in 2008 at Spannabis, Spain's annual cannabis event, where its high CBD levels were initially analyzed. Cannatonic has earthy, floral aroma and flavor with slightly sour notes.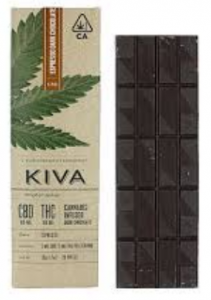 CBD-High Cannabis Edibles atLegal Cannabis Weed Dispensary, Sunland, California
3. AC/DC
A sativa-dominant phenotype of Cannatonic, AC/DC contains 16-24% CBD, with THC levels as low as 2-6%. AC/DC is known for being an extremely relaxing high CBD strain that invokes a feeling of uplifted happiness. Individuals who frequently use AC/DC report an increase in focus and concentration. It has herbal, piney aroma and flavor with faint peppery undertones.
4. Harlequin
With a CBD content between 10-15% and THC levels ranging from 4-7%, Harlequin is well-known among the medical cannabis community. A CBD-dominant cannabis strain made from the cross of Thai sativa, Nepali indica, Swiss sativa and Columbian Gold. The aroma of Harlequin is earthy and somewhat musky, while also containing notes of citrus and mango.
5. Ringo's Gift
Bred specifically for its high CBD content by crossing AC/DC and Harle-Tsu, Ringo's Gift contains roughly 10% CBD and less than 7% THC. Ringo's Gift is rich in terpenes including myrcene, a-pinene and caryophyllene, offering a refreshing earthy, pine-like aroma mixed with strong citrus and mint notes.