The versatility of cannabis plant offers us a wide variety of strain types, which allows consumers to experience a wide range of affects depending upon the strain they choose. Some strains are associated with deep feelings of relaxation, while others are known for creating a more euphoric effect. If you are always looking for euphoric effect, here are 5 top cannabis strains for you to study.
Top 5 Cannabis Strains for Euphoric Effect
1. White Diesel
White Diesel takes some of the best genetics from White Widow and NYC Diesel, and the result is a sativa-dominant hybrid strain that has a reputation for promoting euphoric highs. This strain definitely inspires some feelings of physical relaxation, but it's most known for being associated with cerebral effects. It's a popular choice for medical patients who have anxiety or depression, which also makes it a good fit for recreational customers who are looking for an uplifting experience.
2. Ghost OG
A cross between Afghani Indica and OG Kush, this indica dominant strain has moderate to high THC levels. It produces a high and strong buzz that takes over you in an instant. Ghost OG has positive effects on your system, such as calming your nerves and making you feel happy and cheery. It's strong citrus aroma has the ability to reduce pain, insomnia, depression and anxiety.
Ghost OG Pre Rolls available at NaturalAid – Legal Weed Dispensary, Sunland, California
3. Ghost Train Haze
A sativa dominant cross of Ghost OG and Neville's Wreck that has a vast array of uses. It can help with anything from making you euphoric from the first inhale to trating glaucoma and arthritis. A high THC content strain, with sour citrus and floral aroma that has the ability to kick out your pain and is not for beginners.
4. Triangle
Triangle also known as The White because of its dense layer of shiny trichomes is renowned for creating a balanced high that affects the body and mind just about equally. It doesn't have an especially strong taste or smell compared to other cannabis strains, but it more than makes up for the lack of flavor with its high THC content and euphoric effects.
5. Blue Headband
The Blue Headband is a mostly balanced hybrid that offers up a complex smell of gas, spices, and berries. It normally gives a feeling of cerebral rush but also accompanied by a relaxed feeling of calm that extends through the entire body. It's mellow enough that it doesn't make people anxious but it's sativa punch can inspire bursts of energy and generally uplifted feelings.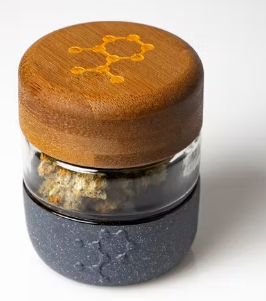 Cannabis Flowers from NaturalAid – Legal Cannabis Dispensary, Free Home Delivery!