Ingredients
1/2 cup regular butter
1/2 cup cannabutter
3/4 cup sugar
3/4 cup brown sugar
1 tbsp honey
2 eggs
1 tsp vanilla extract
2 1/3 cups all-purpose flour
2 tsp baking powder
1/2 tsp baking soda
1 tsp salt
1 tbsp coffee grinds, used
1 cup butterscotch chips
1 cup salted ripple chips
1/2 cup mini chocolate chips
1/2 cup sliced almonds, toasted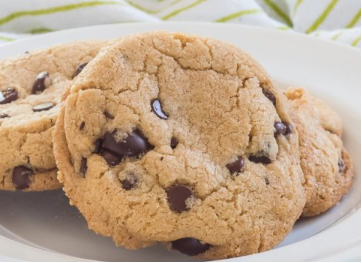 Procedure
1
Preheat the oven to 350°F/175°C.
2
Place the butter, cannabutter, sugar, brown sugar & honey into a bowl fitted for a stand mixer or using a hand mixer & cream together.
3
Beat in the eggs 1 at a time. Beat in the vanilla extract.
4
In a separate bowl mix the flour, baking powder, baking soda & salt together. Add the flour mixture to the butter mixture & mix well. Scrape down the sides of the bowl & mix again.
5
Add in the coffee grinds, butterscotch chips, ripple chips, mini chocolate chips & toasted sliced almonds.
6
Using a muffin scoop, portion the cookies & place on to a cookie sheet lined with parchment paper. Bake 12 to 15 minutes.